A-1 Barricades/A&H Safety Supply has served the traffic control needs of the Southeastern U.S since 1977.  We have our own experienced Traffic Control Supervisor and maintain the largest inventory of sales and rental safety products in the Tri-State area.  We can also special order virtually any traffic or event control safety device from any of the many manufacturer partners that we proudly distribute for.  We also make custom signage in our in house sign shop.
With A-1 Barricades/A&H Safety Supply you get the professional and personal service you need to go safely and smoothly.

Our philosophy is simply that SAFETY MATTERS.  During the past 10 years, approximately 300 workers per year have lost their lives or suffered severe, life changing injuries in Roadway Work Zones or Construction Sites. These casualties don't just affect just the workers, they also forever affect the lives of the parents, wives and children of the killed or injured workers.  Let's work together to allow our road and construction workers to operate in safe environments, and to make it home to their families safely every night.   
Click to download our Catalog PDF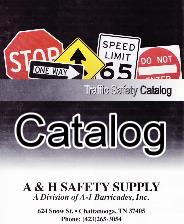 Call (423)265-3054 or email us at info@a1barricades.com for Sales or Rentals